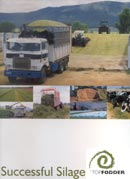 This book is a reference manual detailing the practicalities and basic principles in producing silage in Australia, from growing and harvesting the parent forage to storing and feeding the silage to ruminants.
The up-to-date information presented draws on the experience and research material of Australias most recognised silage experts. Where Australian information has not been available, overseas data have been applied to the Australian situation.
Contents
The book has been written for a broad audience, including farmers, contractors, advisers, consultants, agribusiness and tertiary students. Anyone with a specific interest in silage will find this manual a valuable asset.
There is no other publication of its kind that supplies such an extensive insight into the production of silage in Australia.
A free silage DVD is provided in the back sleeve of the book.
---
Author: Alan Kaiser, John Piltz, Helen Burns and Neil Griffiths
ISBN:  0734714564 | 417 pages | A4
Catalogue number:  B398
Publisher:  NSW Department of Primary Industries | 2004