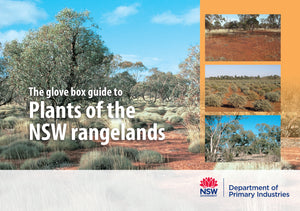 Recognition of the more important plant species is fundamental to the management of livestock enterprises and conservation of natural resources in western NSW.
A major reference work, Plants of Western NSW, was published in 1981 and has proved to be of enduring value to pastoralists and many others with an interest in the management of semi-arid and arid rangelands. But there existed the need for an easy-to-use, portable book for use in the field to identify common and important plant species for pastoral management - hence this glove box guide was produced.
This guide provides the common name, scientific name, family name, description, flowering information, habitat, distribution, native plant status (indicated by a small map of Australia), palatability to stock, further important information for landholders/managers, and a full-colour photograph for each plant to assist in its identification.
The first version of this guide proved so popular with pastoralists and the general public that it has been reprinted to supply the continuing demand. The text is largely unchanged from the original.
---
Author: G M Cunningham, W E Mulham, P L Milthorpe and J H Leigh
ISBN:  0734716966 | 156 pages | A5
Catalogue number:  B199
Publisher:  NSW Department of Primary Industries | First edition 1998 reprinted unchanged 2023