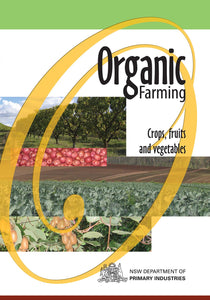 Principles of organic cropping plus extensive case studies for a range of enterprises such as soybeans, wheat, citrus, nuts, coffee, strawberries, tropical fruit, sheep, cattle, vegetables and many other examples.
Contents
Organic crops:

Choosing a crop
Growing the crop
Pest and disease management
Weed management
Planning the organic orchard or crop
Marketing
Conclusion

Soybean: growing principles for all crops

Advantages of growing soybeans
Challenges of growing soybeans
The importance of humus
The package for crop nutrition
Monitor plant health
The seedbed
Crop establishment
Inoculation
Weed management
Water management
Pests
Diseases
Harvesting
Seed storage
Marketing
Economics

25 case studies including kiwi fruit, coffee, tea tree, garlic, grapes, blueberries, apples, strawberries and taro amongst others.
Appendix 1: Sources of biological control
Appendix 2: Soil biology assessment
Appendix 3: Useful contacts.
---
Author:Jennifer Laffan
ISBN:  9780731306120 | 98 pages | A4
Catalogue number:  B165
Publisher:  NSW Department of Primary Industries | 2008