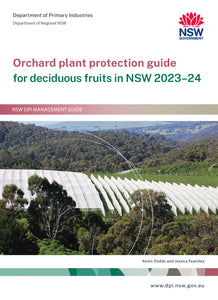 The 2023–24 edition of the Orchard plant protection guide for deciduous fruits in NSW is the latest in a series of annual publications that have supported the pest and disease management decisions of generations of commercial NSW temperate fruit producers. The guide is recognised as a respected and valuable reference for temperate fruit industries.
Feature articles this edition include:
Protected cropping for cherries
Water and crop management strategies during drought
Focus on Apple scab management
Regular content:
Key pests and diseases of pome fruits, stone fruits and persimmons
Managing postharvest diseases
Managing weeds
Managing bud dormancy, flowering, vegetative growth, harvest and storage quality
Avoiding resistance
and much more
IMPORTANT NOTE :  Chemical advice and products listed in this guide are for commercial orchard situations only. Home gardeners should consult their local garden centre for advice on products registered and permitted for home garden use.
This publications is also available for collection or download, please open link below:
https://www.dpi.nsw.gov.au/agriculture/horticulture/pests-diseases-hort/information-for-multiple-crops/orchard-plant-protection-guide
$15 handling charge applies