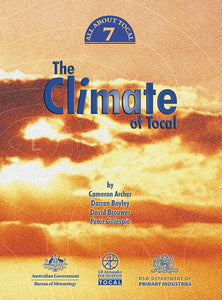 People love to know about the weather. It is a common and frequent topic of conversation. 'The Climate of Tocal' gives a thorough outline of the climate at Tocal and the wider Paterson district.
The information has been drawn from a variety of sources, including the officially-recorded daily data. Some of this data has been collected since 1901, so there are over 100 years of figures available for analysis. The material has been graphed and interpreted to give an explanation of the averages, extremes and the trends in climate. The data is then matched with agricultural practices on the Tocal property for a number of enterprises. So this information has direct application to a working farm. The value of the material in 'The Climate of Tocal' is that it is long-term, it is practical and it relates readily to real-life experience of agricultural production.
Many colour photos and graphs.
Contents
Introduction
Climate and weather records
Air streams affecting Tocal
Rainfall
Floods
Drought
Causes of droughts and floods
The Southern Oscillation Index and the climate of Tocal
Evaporation
Temperature
Frost
... and even snow
Humidity
Clouds
Wind
Thunderstorms
Bushfires
Faming in a variable climate
Climate change?
Conclusion
References
---
Author: David Brouwer, Darren Bayley, Peter Gillespie and Cameron Archer
ISBN:  1862770034 | 90 pages | A4
Catalogue number:  B460
Publisher:  NSW Department of Primary Industries | 1993