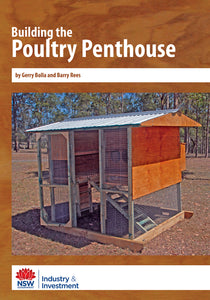 This book includes information on how to design and build a backyard poultry house. It includes:
costings
plans
specifications
assembly instructions.
The Poultry 'Penthouse' was designed and popularised by Gerry Bolla, Poultry Officer with NSW DPI at Gosford for many years. When Gerry retired from the department, there was a need to update the plans and keep them current.
Barry Rees, a recently retired TAFE carpentry teacher, came to the rescue and constructed a Poultry 'Penthouse' especially for the Tocal Field Days. During the construction he added his own innovations and modifications to the design.
The specifications in this book are Barry's interpretation of Gerry's original design.
The 'Penthouse' will comfortably house 12-15 hens full time. If birds are let out daily to free range, the 'Penthouse' can hold up to 25 birds, sleeping on the slatted foor at night. The 'Penthouse' will need to be securely closed at night to keep out foxes.
---
Author: Gerry Bolla and Barry Rees
ISBN:  073130604X | 34 pages | A4
Catalogue number:  B356
Publisher:  NSW Department of Primary Industries | 2007