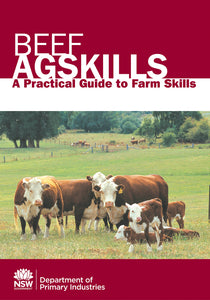 Beef Agskills provides a basic guide to some of the skills and practices of beef production.  The book contains step-by-step instructions, diagrams and full-colour pictures. 
Contents
General safety precautions
Animal welfare
Quality assurance
Working safely in yards
Working safely with cattle in a bailhead
Drafting and counting cattle
Recognising and avoiding stress
Mouthing, drenching, vaccinating and injecting sick cattle
Heat detection in cattle
Problems associated with calving
Castrating calves
Individual identification of livestock
Dehorning calves
Early weaning of beef cattle
Paddock appraisal of beef cattle, and
Safe work method statements.
---
Author: Jennifer Laffan
ISBN:    9781742567136 | 80 pages | A4
Catalogue number:  B105
Publisher:  NSW Department of Primary Industries | 2015
Updated