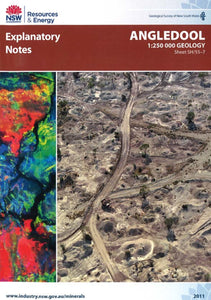 Abstract

The Angledool Explanatory Notes, Second Edition, is a softcover book to accompany the Angledool 1:250,000 map sheet. 

Angledool is located in northern New South Wales, and includes the opal fields around Lightning Ridge. This report discusses the results of the second generation of geological mapping of the map sheet.

The Angledool 1:250,000 map sheet area is economically significant as it contains the opal fields of the Lightning Ridge, Coocoran, Grawin, Glengarry, Muttabun, Wyoming and Mehi areas, which collectively constitute the worlds premier black opal fields.

The area covers part of the Mesozoic Surat Basin, a sub-basin of the Great Australian Basin, which overlies rocks of the Palaeozoic Lachlan Orogen. Rocks of the Surat Basin in Angledool are overlain by Tertiary (Miocene) gravels, which are commonly silicified. Much of the area is covered by Quaternary alluvium.

Opal occurs in the top 30m of the Cretaceous rocks of the ridge system and has formed by the weathering of those rocks, probably during the Late Cretaceous to early Tertiary. Opal generally occurs in the top metre of claystone layers beneath sandstone beds. Surface structures appear to have influenced the distribution of some known opal occurrences, though the relationship between opal and structure remains unclear. Structures may have influenced the flow of silica-bearing fluids during opal formation and/or may have influenced (via uplift and down-faulting) the preservation of opal. Structures may also have influenced the distribution of sandstone, either during or after its deposition, which in turn may have affected the localisation of opal. 
Reference
BURTON G.R. 2011. Angledool 1:250 000 Geological Sheet SH/557, 2nd edition, Explanatory Notes. Geological Survey of New South Wales, Maitland, NSW.