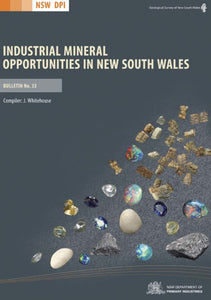 Abstract
This bulletin describes the occurrence and geological setting of industrial minerals in New South Wales, and exploration potential for them. The research updates previous studies by the Geological Survey of New South Wales and is designed to encourage additional exploration and development of the states industrial minerals. The bulletin has substantially enhanced understanding of industrial mineral occurrences in New South Wales and has the potential to provide industrial mineral explorers with a distinct advantage in the search for new deposits. New South Wales contains outcropping rocks ranging in age from Palaeoproterozoic to Recent that formed in a diverse array of geological settings. Many of these rocks have an extensive regolith cover extending to alluvial deposits, sand dunes, inland salt lakes, deep weathering profiles and thick soils. These sequences have given rise to a considerable range of industrial minerals that make an important contribution to the economy and form a diverse sector of the states minerals industry.
Reference
Whitehouse J., Brownlow J.W., Burton G.R., Ferguson A.C., Glen R.A., Lishmund S.R., MacRae G.P., Malloch K.R., Oakes G.M., Paterson I.B.L., Pienmunne J.T., Ray H.N. & Watkins J.J. 2007. Industrial Mineral Opportunities in New South Wales. Geological Survey of New South Wales, Bulletin 33.
Comments
The pdf document for each commodity is part of a larger publication and is subject to the disclaimers and copyright of the full version from which it was extracted.