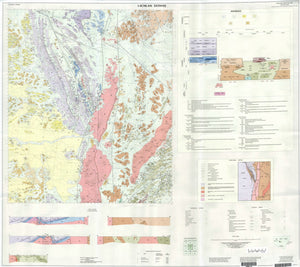 Reference
MacRae G.P., 1989, Lachlan Downs 1:100 000 Geological Sheet 8033, 1st edition. Geological Survey of New South Wales, Sydney.
Comments
FLAT format map is only available as a Print-on-Demand product, and requires a large postal tube. Priced at $19.80 (incl GST), plus $17.20 postage.

FOLDED format version is the last stock remaining from the original print-run, and fits in a padded bag.  Priced at only $11.00 incl GST, plus $10.00 postage.