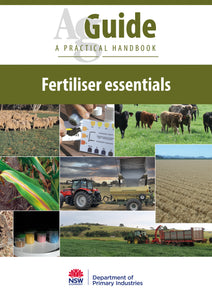 The aims of this books are:

to give land managers a basic knowledge of the principles of fertiliser use
to show how these principles can be used in growing crops and pastures. The book covers some horticultural and viticultural topics, but these are not dealt with in detail
to examine the environmental effects of fertilisers
to briefly introduce alternatives to traditional fertiliser strategies.
When you have read this book you should be able to:

identify the nutrients needed for plant growth and those needed in your district
identify fertilisers for particular crop and pasture species on your farm
select from the range of fertilisers available - the type and form that is most cost effective
use fertilisers so that they provide benefits to productivity without causing pollution.
 Contents:
Introduction

Safety

Understanding fertiliser terms
Soil testing
Healthy soils and nutrient management
Acid soils and the pH connection
Plant nutrition
Possible crop nutrition problems
The major element Nitrogen
Nitrogen in pastures
Nitrogen for crops
The major element Phosphorus
Phosphorus for pastures
Phosphorus for crops
The major element Potassium
Micronutrients
The micronutrient Molybdenum
The micronutrient Boron
The micronutrient Zinc
The micronutrient Selenium
The micronutrient Cobalt
the micronutrient Copper
the micronutrient Manganese
The micronutrient Chlorine
The micronutrient Iron
Naturally-derived fertilisers
Application equipment
Precision agriculture
Calculating fertiliser costs and rates
Scenarios
Nutrient program checklist
Glossary
---
Authors: Justine Baird and Matthew Notley
ISBN:  9781742567839 | 215 pages | A4
Catalogue number:  B494
Publisher:  NSW Department of Primary Industries | 2021