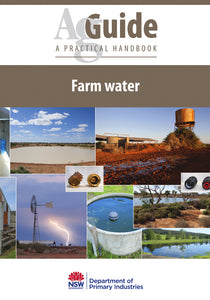 This book is for anyone who wants the best from their water supplies in a rural area. It gives an introduction to the technical problems involved in domestic and livestock water supplies, but is written for the non-engineer.
An updated, detailed full-colour guide to farm water supply for stock and domestic use. Learn about water quality stock water requirements, pumps, alternative power sources, pipes, tanks underground water, and more. Save money by choosing the right pump.
Contents
What do you want water for? Domestic water quality, Salinity, Water for use with farm chemicals, Water for stock, Catchments and water quality.
How much water do you need? Storage, Water supply, Peak flow, Choose the right pump.
Creeks and rivers: Reliability, Controlled access, Licensing.
Underground water: Where does it come from? Licenses, Some important terms, Costs.
Where do you want the water? Head, Lift.
How do pumps work? Centrifugal pumps, Positive displacement pumps, Hydraulic ram, Know your pump job.
Can a pump do what you need? Reading a pump curve or chart.
How will you power your pump? Mains electricity, Petrol and diesel engines, Solar power, Wind power, Other power sources.
Carrying water: Pipe Poly pipe, PVC pipe, Pipe diameter.
Pump set up: Installing the pump, Protect the suction line, Priming the centrifugal pump, Water hammer.
Fittings: Around the pump, For the pipes.
Tanks and troughs
Stock water and farm planning: Where to place the water, Case study, Placing troughs, Farm dams, Management, Community benefits.
Putting it all together: Designing a farm water supply, Water supply and paddocks.
---
Author: Jennifer Laffan
ISBN:  9781742562612 | 140 pages | A4
Catalogue number:  B135
Publisher:  NSW Department of Primary Industries | 2012