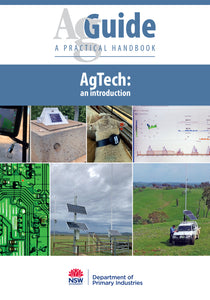 This publication is a practical guide to all things digital in agriculture. Reading this publication will help producers—large and small—to navigate through the complicated world of technology and connectivity in agriculture and better understand the language, devices, use cases, installation techniques and communications and so much more. It gives practical tips around what suppliers of products can and should provide as well as discussing the build-your-own applications.
This book is in two parts:
Part A: AgTech unpacked

 

is an introduction to terms used and procedures followed when setting up digital technology on farms.
Part B: Case studies

 

showcases the information in Part A where it is has been applied and proven successful to three pilot farms. The three farms are in the Farms of the Future webinar series produced by NSW Department of Primary Industries.
This book is an informative and practical guide that is easy to understand and removes any hesitation or concern with implementing digital technology solutions in your farming industry or business.
---
Author: Darren Price, Jennifer Laffan and Scott McKinnon
ISBN:  9781760584818  | 110 pages | A4
Catalogue number:  B991
Publisher:  NSW Department of Primary Industries | 2021