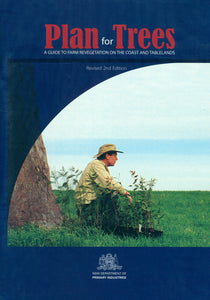 Shows in detail how to re-establish trees and shrubs on your farm. Includes how to plan a revegetation program and assess existing remnant vegetation. Covers natural regeneration, collecting native seed, weed control and protecting revegetation areas from livestock, insects and other threats.
Contents
The value of trees and shrubs
Farm planning
Designing windbreaks and shade areas
Assessing existing remants
Natural regeneration
Collecting and growing native seeds
Direct seeding
Planting
Revegetating streams and waterways
Weed control
Protecting revegetated areas
Appendix: Botanical names of species
References and further reading.
---
Author: David Brouwer
ISBN:  073130601 | 67 pages | A4
Catalogue number:  B168
Publisher:  NSW Department of Primary Industries | 1998